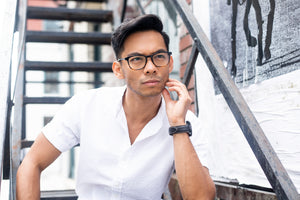 SAY GOODBYE TO BLUE LIGHT
REDUCED MIGRAINES AND HEADACHES
IMPROVED SLEEP
ENHANCED WELL-BEING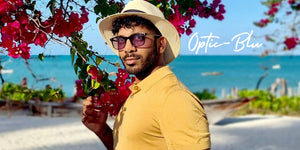 Benefits of our Blue Light Glasses
Improved sleep patterns
Less headaches and migraines
Helps alleviate eye strain or "digital eye"
Protection against age-related macular degeneration (AMD)
Improved concentration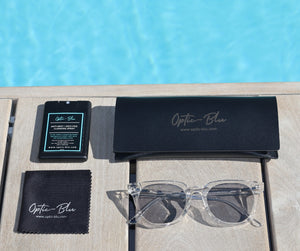 A free gift from us, to you.
Get your free glasses cleaning kit valued at R110 with every pair of adult blue light glasses purchased.
Our credit card shaped glasses cleaning spray is super slim and sleek for easy of travel.
All our glasses come with a branded pouch to protect your glasses.
Our beautiful vegan leather cases can be purchased seperately so we can offer you a more affordable solution.
Free offer excludes kids, party glasses and clip-on glasses.
Ts&Cs apply.
While stocks last.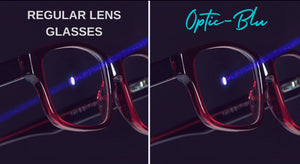 What is Blue Light?
Blue light is part of the visible light spectrum emitted by the sun.
Digital devices with screens, LED and compact florescent lighting (CFL lighting) also produce high levels of artificial blue light. 
Our body uses this blue light to regulate natural sleep and wake cycles known as the circadian rhythm or "body clock".
Therefore, overexposure to artificial blue light can be detrimental to your health.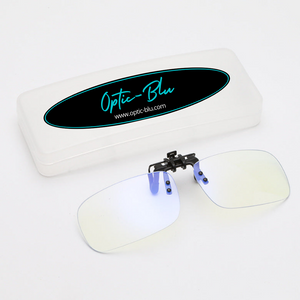 New Arrival: Clip-on Blue Light Glasses
Already have a pair of your favourite glasses but just want blue light protection? These glasses are just what you need.
They easily clip onto rectangular shaped frames giving you all the protection you need from your digital devices.
They are super lightweight and fit easily into your pocket in their hard plastic protective case.
Click here to shop them now.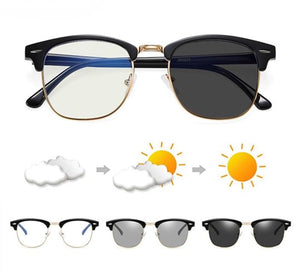 What are Photochromic Blue Light Glasses?
Our unisex (non gender specific) frames are fitted with special photochromic / transition blue light blocking lenses or filtering lenses.
Photochromic lenses are clear indoors and darken automatically when exposed to sunlight. These lenses are sometimes referred to as "light-adaptive lenses," "light intelligent" and "variable tint lenses."
Now all you need are these one pair of blue light blocking glasses that automatically turn into sunglasses.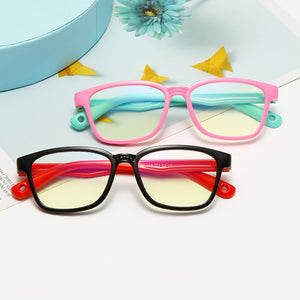 Anti-Blue Light Glasses for Kids
Living in a digital age means that kids are constantly bombarded by blue light from TV screens and tablets etc.
Over exposure to blue light especially during the early years of development can lead to damage that is detrimental to eye health.
Why not help improve your kids sleep and protect their precious eyes.
Healthier kids mean happier kids.